There are a total of seven sets of Change Ringing Bells in the Philadelphia Area. Two sets, Saint Martin's and Saint Mark's, in the city are operable. There are three sets of change ringing bells in the City of Philadelphia which are not operable at this writing. One set of operable change ringing bells is less than an hour's drive from Philadelphia and one inoperable set is less than an hour's drive from Philadelphia.
---
Less that one hour away from Philadelphia
Immanuel-on-the-Green in New Castle, Delaware has a light ring of six. The bells were hung by Taylor's in 1982 and replaced a similar set that were destroyed in a fire in 1980. Those bells had been installed in 1973. The tenor is 3-2-24. The New Castle band practices on Tuesday nights. The Philadelphia Guild of Change Ringers is supporting the New Castle Band by practicing with them on the first Tuesday night of each month at 7:30 pm. Sunday ringing is 9:30-9:55. Ringing may be irregular, so it is best to call first for more info 302-322-4122.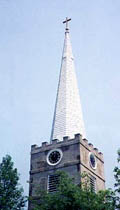 New Castle
---
Saint Mary's in Burlington, NJ houses a 22 hundred weight ring of eight installed in 1865. Unfortunately these bells are extremely difficult and change ringing is no longer done on them. Partial restoration efforts in the 1990's allowed change ringing to be done in the crossing of the nave and a "temporary" rope guide helped with the forty-two foot draft. Even so, this was the most difficult set of bells to ring in North America and few people who began to learn on these bells stuck with it for very long. The rope guide was removed recently, making handling of the bells impossible. Also the condition of the frame led to a lot of play in the flight of the bells as the frame shifted with each pull of the rope. For safety's sake, this ring of eight bells should now be considered un-ringable for change ringing. Hopefully some day in the future there will be people and resources at Saint Mary's who shall commit to the complete restoration that this ring of bells require. On most Sundays, the bells are chimed from a chiming stand in the tower. Saint Mary's parish has an excellent website. To see pictures of the bells takes some digging on the site in the section about Worship.
| | |
| --- | --- |
| Saint Mary's, Burlington | 42 feet |
---
Two rings in the historic section of Philadelphia and one in the north western edge of the city.
Click on the Pictures to Read More about these Rings.
| | | |
| --- | --- | --- |
| Christ Church | Saint Peter's Church | Saint Mary's, Cathedral Road |